BARBEQUE
CHICKEN is a great
American family
recipe!
Southerners
take a special pride in cooking this meal for friends & family. Why not try it on your next visit to the Smoky Mountains? Here's a recipe you can cook at home or the next time you visit us in
Gatlinburg
,
Tennessee
.
Ingredients
Directions
Preheat the oven to 500 degrees F (260 degrees C). In a small saucepan over medium heat, stir together the water, ketchup, brown sugar, vinegar, lemon juice, and Worcestershire sauce. Season with salt, mustard powder, and chili powder. Simmer the sauce for 15 minutes.

Place the chicken thighs into an oblong baking dish, and pour the sauce over them. Cover tightly.

Bake for 15 minutes in the preheated oven, then reduce the temperature to 300 degrees F (150 degrees C), and bake for one hour. Remove cover, stir and bake uncovered for 15 minutes.
When cooking out on the grill, please show caution to protect our parks & forestry! Many forest fires start from charcoal, lighter fluid, or matches when cooking outdoors.
The Fire
If using charcoal, be patient. After lighting the grill, give it 45 minutes before putting any food on.Self lighting charcoal will be OK after 30 mins but beware, it doesn't last long.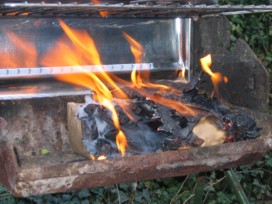 Briquettes are OK but difficult to light and leave a cementitious residue in the base. Lumpwood charcoal & a firelighter and you can't go wrong. Always use fresh charcoal - if you've kept it over the winter it absorbs moisture and simply won't get up to temperature.
If for whatever the coals don't light well, do not be tempted to add more lighter fuel or blow on the coals. If you do, you're risking your own health and safety and those around you. Click here for tips about recycling charcoal
If you're already thinking that this is too much - get a gas barbecue!

When grilling, barbecue flavour is derived from the fat in the food dripping onto the coals and creating smoke, whether those coals are charcoal or lava is irrelevant. So if you're a pyronaught like me, get the charcoal out but if you want hassle free cookouts then maybe gas is a better option.


The Barbecue Cookout


Plan your cookout - think about what needs to be ready and when.
If it's too much pressure, take the Tapas approach and do small quantities of lots of different things.
Always start grilling on the highest setting to avoid flames.
Food cooks with heat, not flames. Flames are BAD!
If you do get flames either take the food off, raise the grill height or dampen down with a water spray.
When doing kebabs on wooden skewers remember to allow at least 30 minutes for soaking
Don't get caught with tough meat. If in doubt use a Barbecue Marinade
A Teflon BBQ mat will keep your vegetarian food "meat free" and also stops patties sticking to the grill and disintegrating.
For moist meat when smoking use a water bath
The next to you choose a luxury log cabin rental here in the Smokies, you can choose to cook them a fantastic meal in the Great Outdoors! Here are some other BBQ Tips:

So BBQ Chicken can be a food health hazard huh? Well not any more.

My first TIP is so simple but essential:-
Be patient. If on gas or electric, cook it gently. If on charcoal allow at least 45 minutes for your charcoal to settle down before even considering to put the chicken on.


Cooking barbecue chicken should be about spit and sizzle. If there's any sign of a flame near your drummer, get the tongs and whip it off. Leave your coals for 15 mins and try again.


I have a home made barbecue design that allows me to raise and lower the grill plate according to the state of the charcoal. It's a great asset for chicken and gives me that extra "volume control" on how the BBQ progresses, but if you haven't got that luxury?


It's the fat from the skin that causes the flames so take the skin off! I know there's lots of flavour in the skin but apply one of my barbecue rub recipes and boy oh boy the flavour is back!